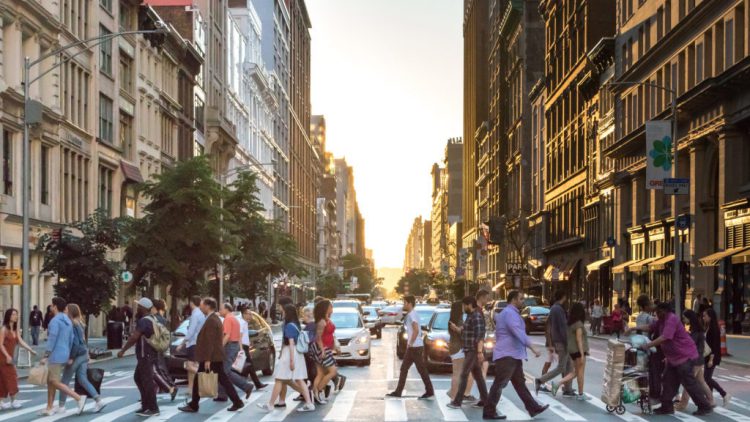 You're surely noticing an increasing amount of requests from your clients for a more walkable environment. Now you can actually support your solution with solid statistics.
The Walk Score platform (offered as both a website and a phone app) measures and scores the walkability of any community. It features a nationwide, public access walkability index that assigns a numerical score to any address in the United States, Canada and Australia.
What makes a neighborhood "walkable?" According to the Walk Score website, the four factors to consider are health, environment, finances, and communities. The score is becoming increasingly important to buyers and renters as well as investors,  developers and marketers.
The platform was conceived and started up in 2007 in Seattle- a town where walkability is a huge selling point. In 2014, it was bought by the residential real estate company Redfin.
Walk Score is a number between 0 and 100 that measures the walkability of any address in any zip code (there are also scores for public transit and bikes):
90-100
Daily errands do not require a car

Walker's Paradise

70–89
Very Walkable

Most errands can be accomplished on foot

50–69
Somewhat Walkable

Some errands can be accomplished on foot

25–49
Car-Dependent

Most errands require a car

0–24
Car-Dependent

Almost all errands require a car
Walk Score does its math using a patented system. It analyzes hundreds of walking routes that lead to nearby amenities. Points are awarded based on the distance to those amenities. Those within a five-minute walk (.25 miles) are given maximum points. No points are given after a 30-minute walk. The site also measures pedestrian friendliness by analyzing population density and road metrics such as block length and intersection density.
Walk Score uses sources such as Google, Education.com, Open Street Map, Localese, and the U.S. Census. It also considers places added by the Walk Score user community. The Walk Score methodology was developed with the Walk Score advisory board and has been validated by leading academic researchers.
For those who still need a little convincing about the benefits of your walkable market, you can argue these Walk Score statistics:
The average resident of a walkable neighborhood weighs 6-10 pounds less than someone who lives in a sprawling neighborhood.
87% of CO2 emissions are from burning fossil fuels.
Cars are the second largest household expense in the U.S.
Walkability is associated with higher levels of arts organizations, creativity, and civic engagement.
Here are the 10 cities with the most walkable neighborhoods in the U.S. in 2017, according to Walk Score:
New York. Walk Score: 89.2
San Francisco. Walk Score: 86.0
Boston. Walk Score: 80.9
Miami. Walk Score: 79.2
Philadelphia. Walk Score: 79.0
Chicago. Walk Score: 77.8
Washington, D.C. Walk Score: 77.3
Seattle. Walk Score: 73.1
Oakland. Walk Score: 72.0
Long Beach. Walk Score: 69.9
If you sell in the suburbs, don't think that this is strictly an urban trend. At the 2016 Urban Land Institute (ULI) Fall Meeting in Dallas, panelists agreed that the American suburbs are evolving into more walkable, sustainable places that rival urban locations. The speakers agreed that the suburbs will increasingly look more like urban centers in the decades to come.
"Within walking distance of public transit, we're seeing a 40% to 200% price premium," Christopher Leinberger of The Brookings Institution tells the Walk Score website. In addition, Joe Cortright of CEOs for Cities, says, "Each point of Walk Score is worth up to $3,000 in a typical metro area."
Click here to find out more about Walk Score.
Have you ever used Walk Score? What's your take on it? Comment below or tell us on Facebook or Twitter!