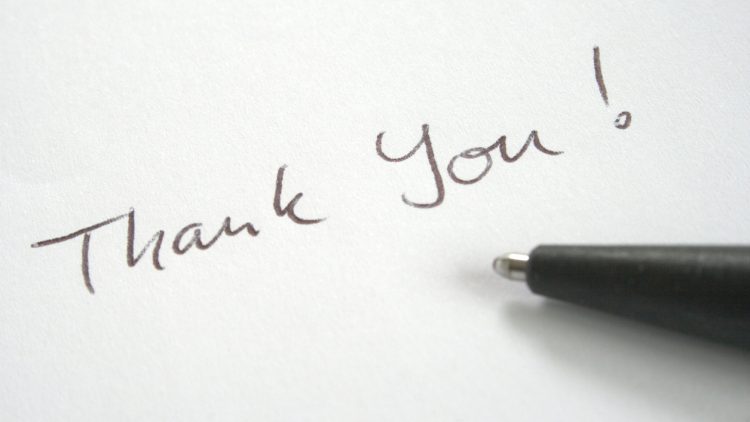 The thank you card is becoming an endangered species in our fast-moving and increasingly digitized world. For many young people, penning a note of gratitude to a potential employer or a recent client is unthinkable. That thank you cards are rare makes them all the more powerful because it offers you a mode of communication that will make you stand out.
Here are a few things to consider before crafting a thank you card:
It's almost never a bad idea
When in doubt, just go ahead and write a thank you card. That's always been true, but these days the novelty of receiving a thank you card by snail mail makes the impact on the recipient even greater. While a phone call or email is a fine way to express thanks, going the extra mile with a card will make it that much harder for the person to forget you.
If one person is going to get one…
If it occurs to you to send a thank you card to one person to whom you are grateful for, this might be a good opportunity to send out a whole batch of cards. Obviously the card should not be completely out of the blue, but any recent client, for instance, is a solid candidate for one!
Hallmark is an option…
There are umpteen thank you cards you can find at your local pharmacy and a few of them might perfectly capture the sentiment you wish to convey. A client or associate with a particular sense of humor, for instance, might enjoy a slightly funny card that still conveys your true feelings.
Customized cards can be a nice touch too
If you plan on sending out cards regularly –– or at least several times in the next decade –– then you might want to consider getting a batch of customized cards made. A stack of personalized thank you cards in your desk gives you a convenient way to fire off your gratitude with a personal touch. It's also a classy touch that people will appreciate.
Salutation
This is optional. There's nothing wrong with starting with a traditional "Dear John." The recipient may very well appreciate the old-school tone, which fits the old-school gesture of sending a physical card. If the person you're communicating with is more laid back then feel free to kick it off less formally, like: "Hey Sally!"
Acknowledge something besides the favor
If you are thanking a client, make sure to show them that you appreciated something beyond their business. Let them know that you enjoyed the process of getting to know them and help them. If it was truly a pleasure working with them then express that. They probably agree and will almost definitely appreciate the sentiment.
And finally…
Say thank you! There are a million ways to say it. The point is to convey sincere gratitude in the way that is most natural to you.
Do you use thank you cards often? Do you have a consistent method or kind of card you use? Share your ideas with us in the comments section or reach out on Facebook and Twitter!