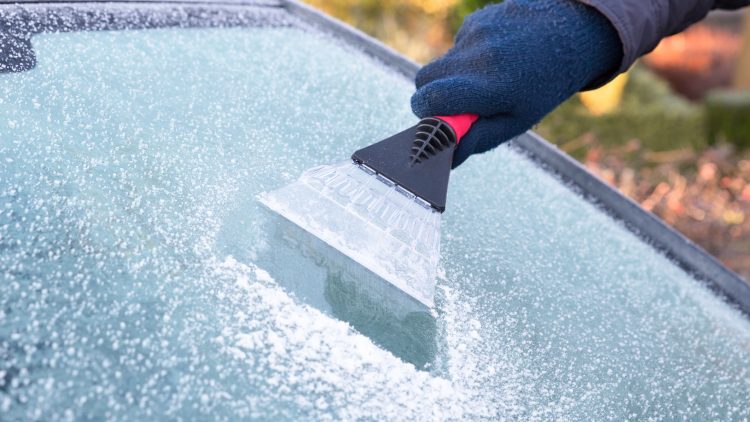 Real estate agents, next to truck drivers, may know the wrath Mother Nature can unleash on the roads better than any other business professional. When winter arrives, frigid arctic storms can shut down roads and strand motorists from Dallas to Dubuque and Portland to Providence.
For agents to remain safe and ready to go the distance for their clients, it pays to be prepared for the worst. Here are some tools we found that will come in handy should you find yourself facing a blizzard or ice storm in the coming winter months:
Ice scraper
A must-have for every agent where snow or ice can fall. The problem is that the humble ice scraper is so darn easy to lose or break! So do yourself a favor, as each winter approaches be sure to locate it in your trunk or garage and keep it handy. PRO TIP: don't pour hot water on the windshield as that could end up cracking it; also, as you begin driving, the water can turn back to ice, especially on the side windows, making matters far worse!
Old school
Yes, you have a flashlight on your smartphone. But rather than risk killing your phone battery, keep a flashlight in the trunk in case you need extended use of one. Also, make sure you check those batteries twice a year in case they decide to die on you when you need them the most!
Speaking of smartphones…
Smartphones do play an important role in the safety of an agent. Say you drive off the side of a road after a home showing in a quaint country cottage. You will want your smartphone handy to call roadside assistance, family, and possibly emergency services. Make sure you always pack an extra cell phone charger/adapter to plug into the lighter so you can keep the phone going longer than a few hours.
Comfort items
Always pack chapstick, lotion, and a snack in your purse, briefcase or backpack. This will help you in a pinch if the wind starts whipping up and snow creates traffic on the highway. If you are diabetic, then you should err on the side of being over-prepared. You never know when a storm could leave you stranded and in need of medicine or an emergency snack to tide you over until help arrives.
Stay warm!
When it's winter, the last thing you want to do is dash off to the next client visit without a winter jacket. Do yourself a solid and dress for the conditions. Also, keep an emergency blanket in the trunk in case you find yourself trapped on the highway with other motorists waiting for a snow plow to come along and free you.
Battery check & jumper cables
Car batteries have the uncanny ability of dying when you least expect it. For starters, it can't hurt to have your car battery checked before winter arrives. Short of that, make sure you have a set of jumper cables in the trunk so that if your battery goes kaput you can hail a friend or good samaritan for a quick jump. When that happens, be sure to make a beeline for a car repair shop to have the battery tested and, if necessary, replaced.
Meow meow
No, leave the cat at home. But take along some cat litter in case you get stuck in snow or ice and apply it to the ground in front and behind your tires for improved traction. You can also use road salt in case Boots or Whiskers hiss at you when you reach for the cat litter box.
For extreme weather, consider going the extra mile…
For those of you who live in parts of the country where the winter is particularly unforgiving — upstate New York, northern New England, northern plains states and Alaska — you may need to be prepared for even more extreme hazards. In that case, you should consider buying:
Roadside flares

Emergency first aid kit (not a bad idea for every motorist!)

De-icer spray for frozen locks & doors

Can of flat tire inflator or portable inflator

Non-perishable food items

Extra socks, hat, and gloves
In addition to all of the above, agents who are winter weather warriors should get their cars and SUVs checked at the start of winter to get the all-clear from a trusted auto mechanic. It can't hurt to top off the fluid levels and even change your radiator fluid to one more suited to cold weather.

Click here to discover how eCommission can help you gain control of your cash flow.