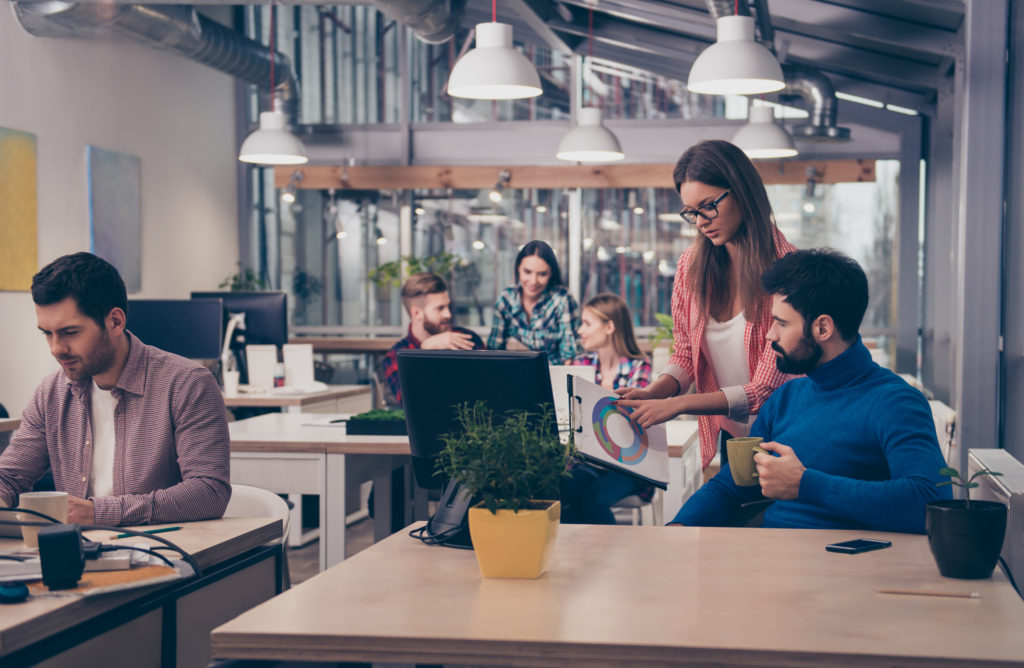 The trend of coworking in office spaces began as a high concept in 2005, and since then has spread like wildfire. The Millennial generation workforce has adopted it as an accepted way of life — and corporate America is responding in a big way in a rush to recruit young talent. It seems the days of the corporate center, cubicle and corner office are vanishing forever.
The coworking concept consists of membership-driven office services, consisting of independent workers (often entrepreneurs, independent contractors, freelancers) and businesses. All of these members pay for and share one space in an open environment, unlike a more corporate scenario, which acts as one unit. Services offered to the members could include free coffee and snacks, IT assistance, phone lines, copiers and printers, and even extracurricular, networking and social activities.
In an Emergent Research survey concerning coworking, nearly 83 percent of respondents revealed that they are less lonely as a result of joining a coworking space, reflecting the growing attraction for "working alone together."
The most popular benefit of the coworking space is flexibility. Short-term leases and a choice of square footage without a long-term obligation is proving to be cost-effective for tenants. They also do not have to build out space or pay for space they don't need.
The most proactive and aggressive pioneer in the coworking space is WeWork, which focuses on community, personal amenities, social programming, individual spatial design and hospitality services. Or, as it's called on its website, "space as an experience." Founded in 2010, it now has over 100,000 members and 5,000 employees in over 280 locations across 77 cities and 23 countries.
The number of coworking members is expected to grow from 1.74 million in 2017 to 5.1 million in 2022. According to estimates, 1.7 million people will be working in around 19,000 coworking spaces around the world by the end of 2018.
There are currently 14,411 coworking spaces globally, growing at a rate of 200 percent over the past five years alone. Global cities like London, New York, and Chicago are expanding into coworking spaces at an annual rate of 20 percent.
The coworking trend syncs with the growth of the "gig economy," where large parts of the workforce will not work as full-time/long-time employees, but more as independent contractors and freelancers. By 2020, it is estimated that 40 percent of the workforce will be freelancers, temps, independent contractors, and "solopreneurs."
However, individuals are not the only ones taking advantage of the coworking revolution. It's estimated that 50 percent of enterprise companies will be involved in coworking space by 2020. Companies like Facebook, Microsoft, JP Morgan and about 15 percent of the S&P 500 are involved with shared spaces.

Click here to discover how eCommission can help you fortify your cash flow.