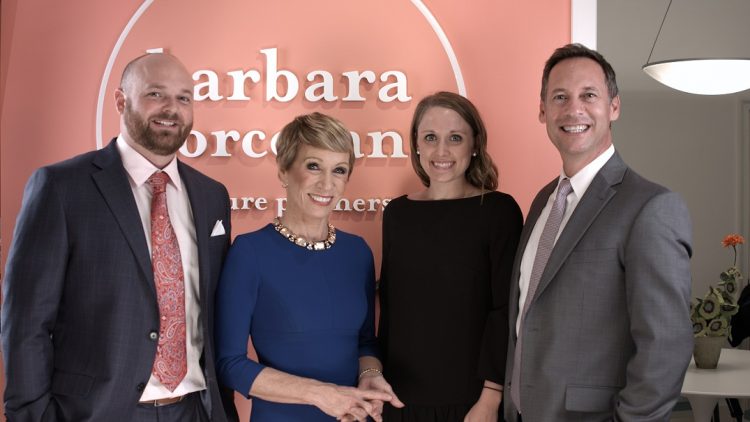 We are excited to announce that celebrity real estate mogul, investor and Shark Tank star Barbara Corcoran has become a spokesperson for eCommission. For those who haven't seen her on Shark Tank, Barbara Corcoran rose from humble beginnings as a waitress in a diner to found and run what ultimately became a $6 billion business. She credits a trove of "unconventional" lessons from her homemaker mom for helping her become a successful entrepreneur.
Why Barbara and eCommission? Because both are committed to helping small business owners become wildly successful. When Barbara offers to invest in a business on Shark Tank, she does so because she passionately believes in the people behind the business, and in her ability to help guide them on their entrepreneurial journey toward even greater success.
Barbara saw a similar passion in eCommission and our commitment to helping real estate professionals become successful. In fact, it's a big reason why she's made eCommission the only commission advance service she would endorse.
But it's not the only reason.
When Barbara took the ultimate leap of faith on her entrepreneurial journey as a real estate broker, quitting her job as a waitress with only $1,000 in borrowed funds, she did so knowing that failure was not an option. While she was never afraid to dream big she also paid close attention to the details of running her business, including her finances.
As you may have seen in her video on the eCommission home page, Barbara talks about the ups and downs of cash flow for agents as they wait on commission payments, making it seem like a cash flow roller coaster at times. Early on Barbara learned about the time value of money the hard way, like every agent has to, and it's a big reason why she endorsed eCommission.
In Barbara's own words, "smart agents know how to leverage eCommission to invest in their businesses today for generating a greater return tomorrow." She knows that every agent's commission check is at the mercy of the closing. But by utilizing eCommission's fast and easy application process, agents gain the ability to control the timing of when they get paid so they can focus on what matters most –growing their business.
Barbara knows there is a time and place to take advantage of advances against commissions. For example, it's when there are high-impact investments you should continue making in order to keep your inflow of new sales leads coming in without interruption; it's when purchases of online or print ads are the difference between obscurity and getting easily found by home buyers or sellers; and it's when you have to keep investing in the basics of running and growing a business.
So we hope you will join us in welcoming Barbara to the eCommission team. We admire her no-nonsense character, passion for her profession and track record of success built on hard work and smart moves.
We encourage you to make the same smart move as Barbara with eCommission when you want to take your own real estate business to the next level.
Until then, enjoy our enlightening series of video tips with Barbara that will be steadily released over the next several months on our Facebook page (Like us!), on Twitter (Follow us!) and on our website (bookmark us!).
Sincerely,
Your eCommission Team
P.S. We highly recommend picking up Barbara's recent book, Shark Tales – How I Turned $1,000 into a Billion Dollar Business. You can buy it on Amazon or in your local bookstore.