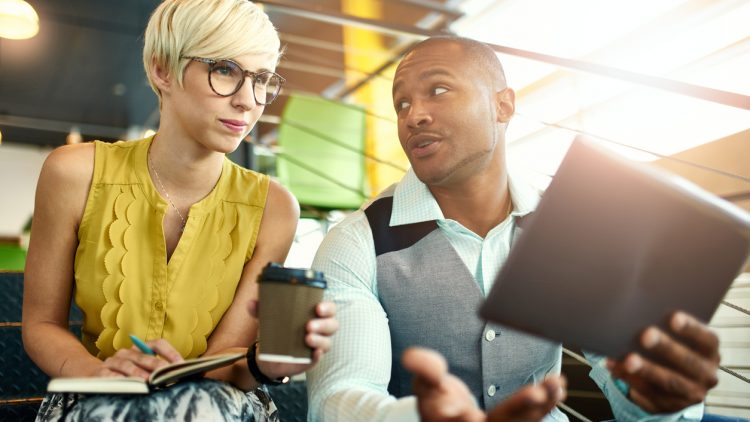 The concept of the modern office is changing day by day as new technology enables workers to forgo many of the traditional expectations of work. A worker can now stay in bed all day and still "show up to work," perhaps even interacting with colleagues more than he would in a conventional office setting.
Not only has video chat technology enabled colleagues to interact face-to-face without being in the same physical space, but a number of collaborative applications have arguably made communication and coordination between co-workers much easier. Here are a number of the most effective apps that can help your real estate team stay in touch.
Slack
One of the most popular work apps, Slack is how a large number of offices communicate about ongoing projects, exchange ideas for new projects or strategize for the office Christmas party.
The main idea is to separate ongoing conversations into "channels," such as one for a certain project. That encourages people to stay focused and on topic. It's also much easier to follow than a chain of emails. It's not just messages but documents, photos, videos and GIFs that you can share with your colleagues.
If you're a small team, the free version of Slack might be more than enough. For a little more capacity, you might consider paying $6.67 or $12.50 a month.
Trello
This collaboration app is essentially a virtual bulletin board that is particularly useful for project management. In fact, many mobile workforces rely on Slack for text communication but Trello to oversee project progress. Trello is based on "boards" on which you can paste "cards." Trello can integrate with Slack and vice versa.
Trello has a free version but if you want to integrate with any other apps, you'll have to fork out $9.99 or $20.83 a month for the higher-class versions.
Flow
Another project management program, Flow has received praise for its simple layout, which makes it easy for those of different computer skills to immediately jump in. It is also known to save and load very quickly. The con is that it is a tad more expensive than some similar programs.
Flow is considered top-notch, and as a result you have to pay at least $19 a month for the starter plan that allows access for up to three people. If you are operating with a larger team, you'll have to pay $59/month to gain access for up to 10 users. The prices keeps rising as the team gets larger.
Asana
Another program that is easy for a multi-generational team to quickly grasp, Asana's system is relatively straightforward. There are various projects with tasks listed underneath. For instance, "New Website" might be the project, while one of the tasks might be "Create name for the site." If you click on that task you might see another list of things that various people have to do, such as "come up with list of potential names by Monday" or "check available URLs." All of this is visible to the whole team, so everybody can easily track their project's progress.
Asana is very affordable, particularly for small teams. The free version allows up to 15 users while for $9.99 a month you can add an unlimited number of users and gain access to all kinds of tools.
Do you rely on collaborative apps? Are there any that have helped your team work more efficiently? Tell us in the comments section below or on Facebook or Twitter!