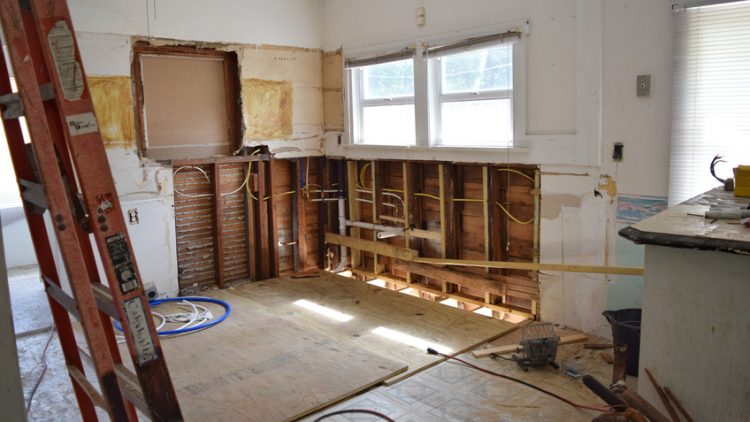 Trying to flip a home can be frightening. It takes a lot of confidence to invest a bunch of money in a house with the hope that it will pay off in the end.
Distressed home + desirable location = $$
The goal when you're trying to find a home to flip is to find a not-so-hot house in a either a hot  or up-and-coming area. The idea is that the land is valuable, but it's a pain to deal with the distressed property that is currently occupying it. The market will reward you for undertaking the time and effort to fix the home up.
What's the market?
You need to know what people are in the market for in the area. A site that you target might have even more potential as a different type of residential use; for example, converting a duplex to a single family home or vice-versa.
Find an expert
Speaking of doing your research, try to find somebody who is experienced in house-flipping to give you advice on how to do it effectively. There may be conditions specific to the local real estate market that make flippings more or less attractive than usual. They can also give you insight on the types of investments that will pay off the most and the best contractors to work with.
Know the rules and regs
If you are planning on converting the property to a different residential use, you should contact somebody who understands and deals with local land-use regulations. If you need the property rezoned, it is often key to hire somebody who is familiar with the politics of such transactions. Dealing with the neighborhood association and governmental bodies can be a complex process. There might be rules in place that forbid you from doing what you envision for the property –– you need to know this before you buy!
Patience
If you decide to get into the flipping game, take your time. Don't jump into the first potential flipping opportunity that you see without a good deal of analysis. This is a big investment. Make it a smart one, not an impulsive one.
Do you really know how much you're spending?
Remember that your profit will not just be the final sales price minus the price that you paid for the home and its improvements. If you took out a loan to buy the home then you will be paying interest. Even if you pay cash you will have "holding costs" associated with the home, including property taxes, utility bills and insurance.
Anticipate cost overruns
The rule of thumb is to budget for the project to cost 20% greater than your initial estimate. Whatever you think is wrong with the home at the beginning often proves to be only the tip of the iceberg. That means the price you expect to sell the home for should be significantly greater than what you estimate you will spend to purchase the home and renovate it.
Home inspection
Cost overruns will be rarer and not quite as dramatic if you have a good home inspector who can help alert you to issues. Those issues might send you running for the hills, or they may simply help you get a much better price.
Leverage your real estate resources
Fortunately, as a real estate agent, you have some advantages when it comes to flipping homes. You won't have to pay a commission for your part of the transaction, which will be pure profit for you. What's more, from the MLS to your own network, you have a tremendous number of options when it comes to marketing and selling your flip home.
What do you know about flipping houses? Share your tips with us in the comment section below or let us know on Facebook or Twitter!