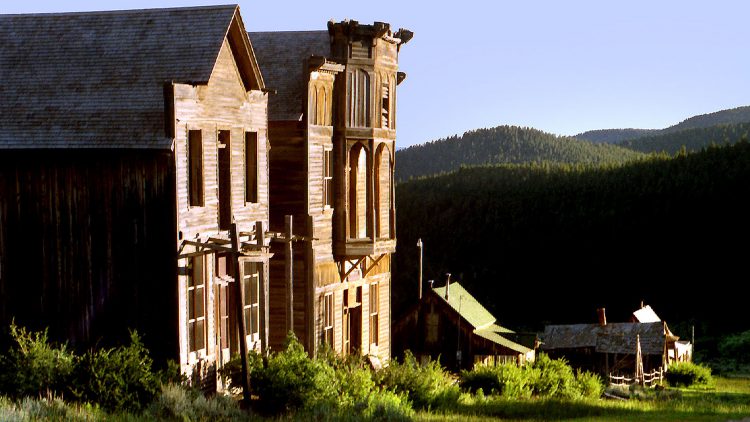 There is a growing interest in — of all things — million-dollar ghost towns, according to The Real Deal.
"Ghost town" is the nickname given to settlements whose population has since moved on, usually due to economic change. Many of these towns are located alongside abandoned mines or farmland. Usually, all that is left behind are the properties — homes, commercial buildings — now old and decaying.
Interested buyers: mostly churches and corporations, who often buy properties as a marketing strategy, to preserve history or to launch a new project.
Celebrities too: Jon Voight lives alone on his 225-acre property, Sunrise, Wyoming (Voight was born and raised in Wyoming). In August 2017, nearly 1,000 tourists visited his town to witness the solar eclipse. Also recently, a 13,000-year-old archeology site was discovered on the property, which brought in dozens of researchers.
"I was looking for one more good adventure. I still had lots of physical strength and stamina," Voight told The Outline. "So I thought, 'well, let's try mining, I've never done mining.'" The Outline also reports that he received an offer of $12 million for the town, which is now little more than a few abandoned brick houses, a chemical lab, and a YMCA built by John D. Rockefeller at the turn of the 20th century.
"There is not a demographic out there that does not want to buy a ghost town," real estate agent Jake Rasmuson told The Outline. He handled the listing of a ghost town called Cerro Gordo, which was a former silver mining town that lost its population in the 1860s. He took calls from interested buyers all over the world, finally closing on the town for $1.4 million in July 2017.
Cerro Gordo was bought by Texas entrepreneurs Brent Underwood and Jon Bier, who plan on turning the ghost town into a retreat for companies and creatives. Among the interested parties who want to be a part of the property: music festivals.
The Arizona-based marijuana company American Green bought Nipton, California in 2016, for $5 million. The idea was to turn the town into a weed mecca. ATX Brands, a restaurant investment group, bought Bankersmith, Texas in 2012, renaming it Bikinis, Texas to promote its Hooters-like restaurant chain, Bikinis Sports Bar and Grill (the town was back on the market in January 2017, for $975,000).
Iglesia Ni Cristo, the Filipino denomination of the Church of Christ, bought Johnsonville(Connecticut) for $1.85 million in 2016. The church owns another ghost town, Scenic(North Dakota), purchased in 2014 for $800,000.
Once a town becomes a ghost town (meaning the population is zero), it becomes unincorporated and is no longer included in census surveys. If you move to a ghost town — like Jon Voight did — you must keep a P.O. box in the nearest incorporated town or place a mailbox along an interstate highway, according to Jake Rasmuson, who has sold two ghost towns so far.

Click here to discover how eCommission can help you fortify your cash flow.