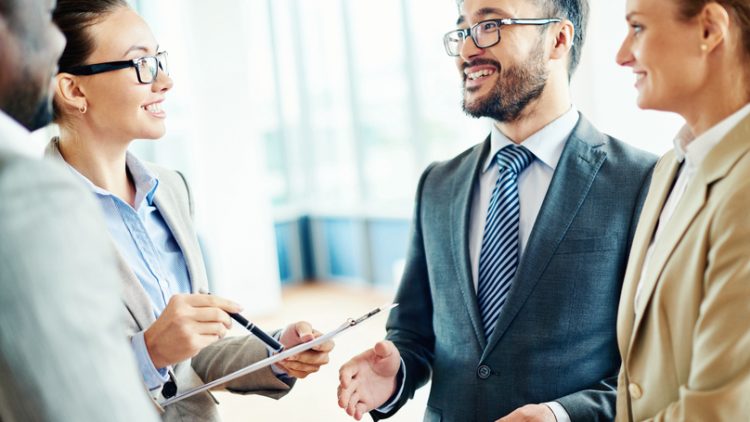 If you are looking for a new landscaper are you more likely to take the suggestion of your neighbor with the great yard, or just call the landscaper who left a piece of paper in your mailbox?
Most people would take the personal referral because it came from someone with credibility. These types of referrals are crucial for real estate agents because it allows you to expand your network with minimal resources. It's a win-win!
So how do you get more people to mention your name and direct business towards you? Consider joining or establishing a professional referral network (PRN) that aims at connecting non-competing businesses with other businesses in the same community. It's give and take networking: you refer people to other businesses and hopefully they will send some your way too.
Here's how to get the most from your PRN to bring in more busines:
Give more than just business cards
Yeah, yeah—we all know a handshake and a business card go a long way, but you shouldn't stop there. When you attend a PRN event, go beyond traditional networking. You get the most out of a PRN when you really get to know the people in your network so you can make more personalized suggestions. In the process they will get to know you better and can refer clients to you that will be a good fit.
Say an attorney gave you a business card and then you had a couple minutes of small-talk. Would you know enough about her to refer a friend or client of yours with a specific legal problem? Chances are that you will not. But if you spent time learning that she specializes in eviction cases for families struggling with a medical crisis, then you would know when and how to make the connection. The same goes for you! Make sure you open up and let people get to know you so that you pop into their mind when someone is talking about buying or selling a home.
Be a leader
To get the most out of your PRN membership, consider taking a leadership role like President or Vice President. It will bolster your perception as a community leader and will strengthen your relationships with the other members of the leadership. The more involved you can be the better. Plus, it's not bad being called Mr. or Ms. President!
Find an affinity partner within your network
Real estate agents are constantly working with mortgage lenders, contractors, handymen, etc. Like you, they heavily rely on referrals and work for themselves. So why not set up a partnership with them? An affinity partner is someone that agrees to refer all their relevant clients to you if you refer all your relevant clients to them. It can be extremely beneficial for both of you.
Make sure that your affinity partner does not compete with your business in any way and that you appeal to the same audience. For instance, if you are focusing on the luxury home market, think of forging a partnership with a high-end furniture store or interior designer.
Don't keep score
This is business, not the NBA finals. No need for keeping score here. Sometimes you will be sending other businesses more clients than they are sending you. But what goes around comes around. Instead of getting frustrated that you are giving more than you are taking, just be patient. You will earn a reputation for being a solid contributor and referrals will eventually start coming your way.
If you are new to the real estate world, be especially patient. After a few solid sales you will start to develop a reputation and people in your PRN will be more likely to recommend you. Until then, try not to go tit for tat with other people in the network.
Know when to quit
Consider a PRN membership something for the mid-long term, but not necessarily the long term. If you find that your number of referrals has plateaued or dropped, it might be time to move on and find a new PRN. Sometimes it pays off when you shake things up and fish for leads in new waters.
Are you a part of a PRN in your community? If so, do you have any examples of how it helped you generate solid leads? Let us know with a comment below or on Facebook or Twitter.