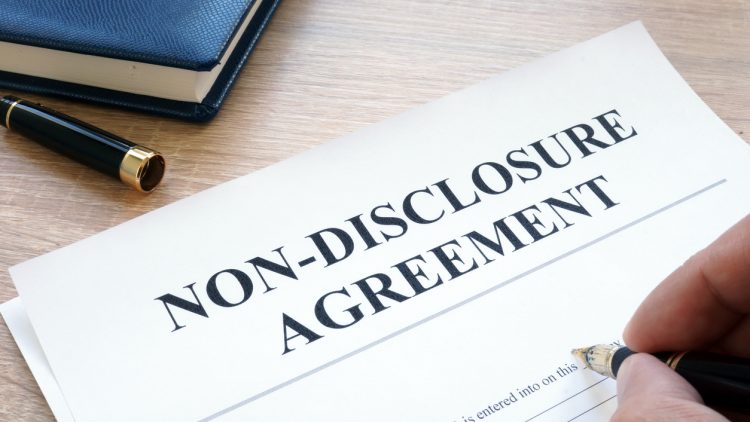 A non-disclosure agreement (NDA) could be your best friend when seeing through a real estate sale. Not having one could lead to all kinds of worst-case scenarios, including the buyer and the seller deciding to finish the sale without you. An NDA can confirm your role in the sale, how much you are to be compensated and what information can and cannot be shared.
Buyers can benefit from NDAs as well; they can protect their personal and financial information and prevent the details of the sale from being shared with interested competitors. Not signing an NDA may also lead to vital information not being communicated, which could negatively affect the sale.
Of course, an NDA should never be agreed to on a handshake — that would not be binding in a court of law. Make sure the NDA is clearly stated and detailed in writing, and notarized by a notary public. All parties involved in the NDA must sign it to make it legally binding, as long as they are of legal age and sound mind. Each state may have different requirements and restrictions regarding NDAs, so make sure you do your research. In any case, it's best to consult an attorney.
Forbes reports that an NDA should only be a few pages long and focused only on protecting important information, such as code, algorithms, strategies, and sales lists. A violation of this agreement can result in a lawsuit, monetary damages and a court order to prevent further disclosures.
The article goes on to describe an NDA as a document that clearly defines "confidential information." The idea is to avoid broad, sweeping generalizations about what this may mean for you, and drill down to specific descriptions and categories. Otherwise, a court could deem your NDA unenforceable.
According to EveryNDA.com, there are five common mistakes that are often seen regarding NDAs:
Depending solely on a "template" agreement
Templates are great as a guide, but be sure to customize/personalize the agreement in detail; otherwise it will appear too broad and general and possibly unenforceable. You may want to seek the advice of an attorney for proper language and detail.
Keep drilling down and use specific language about what you strongly feel is confidential information that must not be shared or violated.
Third parties not mentioned
Other people may be involved in this sale other than just you and your client. Be sure to list in detail the parties who must share in the confidentiality. These could include appraisers, developers, investors and lenders. An NDA should not only protect and legally bind the buyer and the seller, but everyone involved in the sale.
Be realistic and reasonable about the timeframe regarding how long the NDA should last. For example, the NDA could expire after one year, 18 months, or once the sale of the property officially closes.
Not getting the NDA signed right away
Sometimes, approaching a client about signing an NDA could be awkward, and you may think it could affect the sale. However, the sooner you have the NDA signed, sealed and delivered, the more protected you'll be about speaking freely and effectively regarding details of the sale.

Click here to discover how eCommission can help you fortify your cash flow.