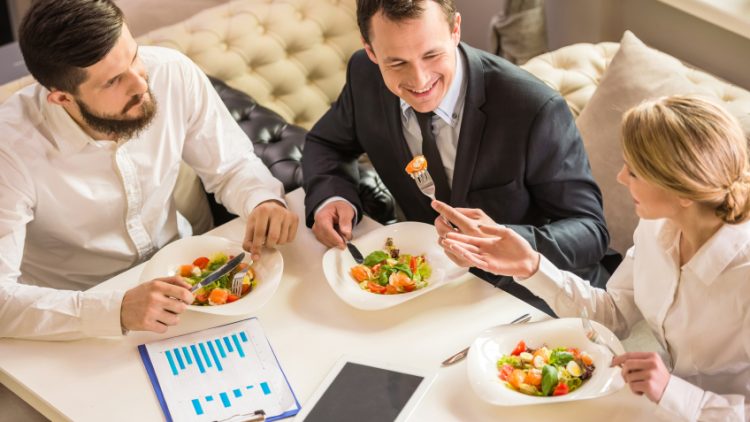 A great many deals with clients and business partners are closed over a lunch, golf outing or fancy dinner. Indeed, nothing is quite as conducive to icing the deal than having a bite together in a nice eatery. The nice thing about business meals and entertaining clients in general is that they are a legitimate business expense and therefore deductible from your taxes. The bad thing is not all meals and entertainment expenses are deductible so you have to be careful what you declare on your taxes.
In this blog post we explain ways in which meals and entertainment can be deducted by real estate professionals from their income taxes. Here are four general tips to review before you bring your shoebox full of receipts to the CPA with high hopes of massive tax write-offs:
50% meal deduction
A total of 50% of your meals with clients can be deducted from your income taxes. The lunch must serve a business function or it is not deductible. Lunch with family members is not deductible, unless they all participate in the business and you actually talk about business during the meal. It's certainly okay to write off a meal when taking a client out to see homes. Having a weekly lunch with a 'client' because you both love a good burger, however, does not constitute a deductible expense. Unless, of course, you talk about business.
Taxes and tips, cover charges for admission to a nightclub, rent paid for a room in which you hold a dinner or cocktail party and amounts paid for parking at a sports arena all fall under the 50% deduction.
Documentation
Dropping off a shoebox with lunch receipts once a year at your accountant's office will not cut it. The IRS asks you to keep track of who you had lunch with, where and why (for example: you had lunch on February 2nd, 2015 at Chili's with Mr. Richards to discuss his offer on a condo). You also need to keep receipts for meals that cost $75 or more (there is no need for receipts for cheaper meals, but you still need to document them as mentioned above).
No free (in-town) lunches
There is nothing wrong with eating out by yourself in your own town, but a deductible business expense it is not. Only when crossing the city limits for business and then eating by yourself does it become a tax deductible expense, at the 50% level mentioned earlier. If for any reason keeping track of receipts proves too difficult, you can use a standard meal allowance for every day you work out of town. In 2016 the standard meal allowance is set at $51 per day; some cities have even higher standard allowances because of their higher cost of living.
Let's get this party started
If you manage a team of people and you want to throw a holiday party, you are in luck. It's a 100% deductible expense. It does not matter whether you eat out or if you have a caterer bring in the turkey and dressing. When throwing a party for prospects and clients, you can invite a group of 50 prospective home buyers over to a summer bbq. If this event is clearly targeted at promoting your business, it becomes a marketing expense; best of all, the expenses related to the party are 100% tax deductible. Of course, as with meal expenses, you have to keep a record of who attended the party and what purpose it served.
This is our short list of must-have tax tips, but since other rules may apply we encourage you to get your final advice from your CPA or tax accountant. Our intention is to get you thinking in advance about what constitutes a tax deductible meal or entertainment expense.
In the meantime, feel free to write off that kobe burger with garlic fries as long as you are there to discuss business with a client. Bon Apetit!
Image courtesy of Career Employer.