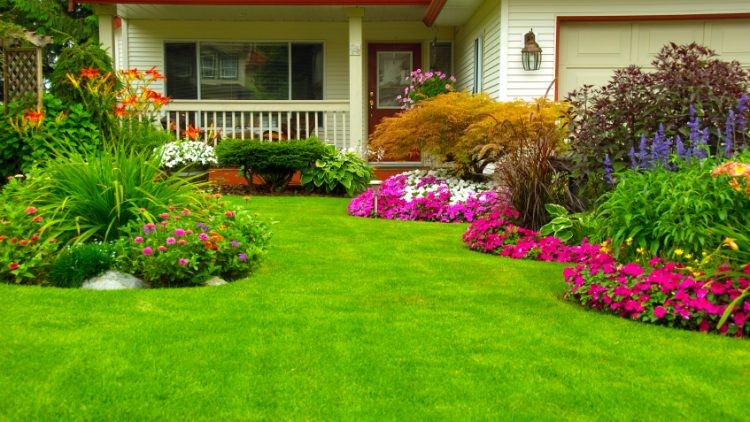 We have all been told not to judge a book by it's cover, but often we just can't help it. This is especially true for home buyers. A large majority of real estate agents report instances where clients have declined to look at the interior of homes based on the outside appearance. Deals can be stopped in their tracks based simply on curbside appeal.
But don't take our word for it. Better Homes and Gardens suggests based on numerous real estate studies that landscaping can add between a 5% to 15% increase to a home's value on average, so if you want to impress your next listing client then be sure to spend time looking into curbside appeal.
Luckily for you, we have ten tips that will ensure your client will make the best first impression possible.
Fresh coat of paint
A fresh coat of paint on your client's home exterior can go a long way. Nothing says neglect like peeling and faded paint. Even on an old house, a fresh coat of paint makes a house look clean and cared for. When it comes to choosing a paint color, advise your client to not go crazy. Try to match the color previously used or use something relatively neutral to appeal to a larger audience. Want a bright color? Consider adding accent colors to shutters or the front door to add the desired pop and pizazz. Time to grab a brush and bucket of paint!
Get growin'
Landscaping can add tremendous value to your home. It is crucial, however, to cover the basics like making sure the client's lawn is mowed and gardens are weeded. After all, a well-kept lawn is a sign of a well-kept house. Simple landscaping tricks can go a long way, as well. Adding dark mulch in gardens and around trees gives a house a richer look. Adding window boxes with bright flowers makes a house look instantly charming. Got client with zero time or talent for planting gardens. Suggest putting potted plants in the yard and along the front stoop to create a temporary garden that will still appeal to buyers.
Drive in style
We drive onto our driveways so often that we tend to forget what they look like. If your client's driveway is cracked or streaky, fix it up. Have them fill cracks in and get the pressure washer out to get rid of old stains and dirt. If your client wants to go the extra mile, line the driveway with rows of tulips or other bright flowers. If they need a driveway makeover, think of filling the driveway in with stone or colored concrete. It might just give the house an extra edge on the competition.
Let the light in
A very simple way to increase a home's curbside appeal is to spruce up the windows. Have your client grab a towel and some Windex, then wipe the grime off the windows. The sun reflecting off freshly cleaned windows makes a house look squeaky clean. Opening the curtains also makes a house look more inviting from the outside. Closed curtains can be off-putting, especially if the curtain colors do not match.
Make it right
Over time and with natural wear and tear, things start to lean. Your client's mailbox might have started off straight but now looks like the Leaning Tower of Pisa; a couple of shutters might be coming off their hinge and looking a little worse for the wear. Tell your client these little 'eccentricities' add up and could negatively impact the home's value. You are their objective set of eyes so what you see and point out could add back thousands to the home's selling price.
Let there be light
The brighter the better. Adding light fixtures to your client's home can give it a warm glow that outshines other houses on the market. For example, adding two lights beside the front door draws attention to the front of the house and gives it a more luxurious look. At night, lighting is especially important. On a dark block, a house with lights lining the driveway or sconces next to the door will draw the attention of viewers. Not to mention, a well lit house is always safer.
Gutters
Gutters are a pain to clean but even more of a pain to look at if they are in disrepair. Dirty or rusty gutters can make a perfectly nice house look horrible. In a perfect world, gutters should be something a buyer never notices on a house, unless he is specifically looking for them. If your client's gutters are rusty or falling apart, consider having them replaced. Often, however, a coat of paint will do the trick.
Porch party
If your client has a patio or a porch, make sure that the furniture is an asset as opposed to an eye sore. An old, rotted swing can draw negative attention to an otherwise appealing front yard. You want buyers to be able to envision themselves enjoying an early morning on a comfy outdoor chair, not falling through a rotted swing. Attractive outdoor furniture can create relaxing, welcoming vibes from the moment a buyer looks at a house.
Tidy up the roof
Real estate professionals know the importance of keeping a roof in good condition. When a buyer sees a house with missing shingles and a shoddy roof, they see a house that needs a lot of work. Often, fixing a few shingles and making sure a client's roof is in good condition can create a better first impression for buyers and appraisers.
De-clutter
Life happens, and sometimes things get left around the side and front of the house. Bikes, toys and baseball gloves get left in the front yard. Tennis shoes sit on the porch for weeks. A hose is left snaking through the yard and driveway, leaving an imprint on the grass to boot. That tattered greeting mat never made its' way to the trash. Another easy way to increase your client's curbside appeal is to just clean up! It's easy to get caught up making the inside of the house look perfect and maybe working to plant a new bed of flowers or put a fresh coat of paint on the house. But don't let your client forget the simple things — like take that skateboard into the shed!

Click here to discover how eCommission can help you gain control of your cash flow.