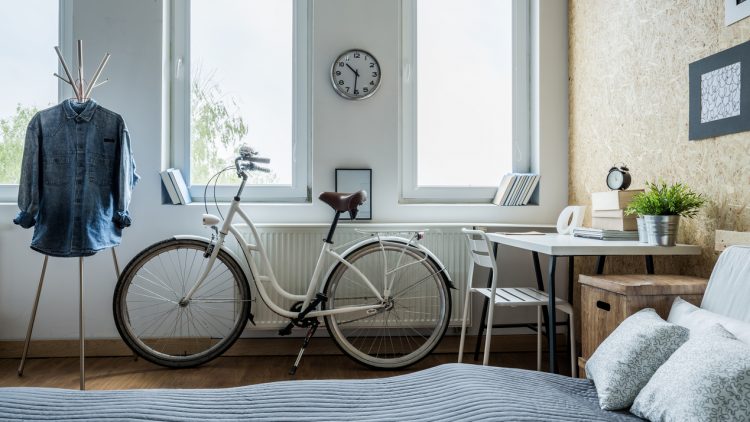 Micro-unit apartments pack a wallop: a kitchen, bathroom, closets, and other typical features fused into a unit of about 200 to 400 square feet.  What keeps tenants from losing their minds: usually high ceilings and large windows, to create an illusion of space.
What saves most tenants from a terminal case of claustrophobia: common rooms, where tenants — especially younger ones who are really taking to this lifestyle — can relax and interact with other residents. Other pluses are usually location, location, location, and reasonable rents.
Micro units are smaller than your average studio apartment and intended, of course, for a single tenant.
The bottom line: use the micro-unit as a pit stop, and a place to sleep.
According to Buildium, the target audience for micro-units is single twenty-somethings with relatively lucrative jobs in the city. They haven't yet accumulated a lot of things, and prefer to work and socialize away from their apartment. Square footage is simply not a demand. Their average stay: about a year or two. From there, they typically move on to a new job and a new city, or start a family.
The Urban Land Institute reports that nearly 1 in 4 renters of conventional units express interest in renting a micro-apartment. They would be willing to sacrifice space for 20-30 percent lower rent, a highly desirable location, and the luxury of living alone.
In fact, 82 percent of those currently living in micro-units were not intentionally looking for this type of apartment. The biggest deciding factor for taking the plunge: location (97 percent of renters). Other factors include proximity to work, the availability of public transportation, neighborhood amenities, price, and the ability to live alone.
Does this lead to happiness? Micro-unit dwellers say that, in comparison to conventional renters, they're happier with what you would imagine: locations, features, and amenities. However, they're not as thrilled with their units' floor plans, or even the perceived value of what they're paying in rent. They only renew their leases 47 percent of the time — compare this with 57 percent for conventional renters. Why they leave: the perception of high rent and — surprise — the need for more space. Yet 37 percent of micro-unit dwellers, if given the chance, would consider purchasing their units.
National Real Estate Investor predicts that micro-unit housing, even though it's not for everyone, will be a part of the rental biz, most likely in cities where the tech sector is attracting the Millennial workforce. In contrast to conventional rental units, micro-apartments have higher occupancy rates and rental prices. It seems likely that micro-units will be on the rise in San Francisco, Los Angeles, Seattle, Boston, and New York.
As more people are preferring the live/work/play of dense urban areas, micro-units are becoming more commonplace, but often misunderstood.
"Typically, as you progress through life and grow professionally you can afford better places to live," Ryan Shear, a principal at PMG's Miami branch, told The Miami Herald. "The [Vice tower] building is targeted toward the younger demographic, because that's the price point we're trying to hit. But the term 'micro-unit' is often abused. 520 square feet in New York is not considered micro, but it is in Miami. We just see them as smaller apartments."
Decades ago — especially in heavily populated cities like New York — small apartments were a thing. In the 1960s and 1970s, however, building codes were changed to discourage boarding houses, requiring larger minimum unit sizes and barring small-unit buildings. In recent years, though, heads are turning back to micro-units as a possible solution to the affordability crisis, the homeless problem and overall overcrowding.
The name itself could arouse negative perceptions.
"We don't call it a micro-unit building," Kirk Goodrich, a partner of Brooklyn-based Monadnock Development, told The Commercial Observer. "It's not a helpful description. All it meant was it was less than 400 square feet. In my mind, 'micro' might connote to someone that it's inferior," but these units are more than small with their design and layout of space, window placement and size, and ceiling heights.
Not all cities are welcoming the trend. The Los Angeles Times reports that Santa Monica recently passed a law limiting micro-units to 15 percent of any building. Denver put a moratorium on micro-unit apartment complexes built on small lots with no off-street parking. Seattle is regulating micro-units with mandatory design reviews, and excluded micro-housing from tax exemptions.
Developers are taking a great interest in the future of micro-units as a generational shift in tastes leans toward live/work/play, affordability, communal experiences, and a decreasing interest in possessions.

Click here to discover how eCommission can help you fortify your cash flow.