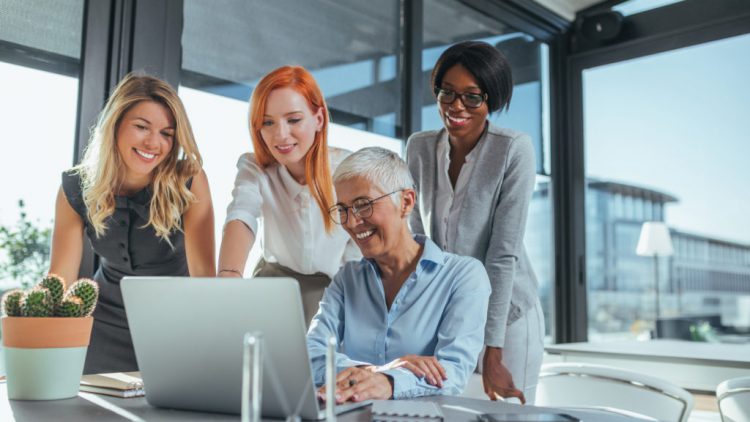 Women leaders are increasing their foothold in the real estate industry. The Swanepoel Power 200 (SP200) ranks the definitive residential real estate's 200 most powerful leaders. In 2017, women show up in 45 of the 200 slots. That reflects three years of growth on the SP200 list, up from 19 percent in 2015 and 22 percent in 2016.
Can you see yourself on this list? As your career progresses and you take with you the belief that "anything is possible," keep in mind some thoughts from the industry's most successful women:
Barbara Corcoran
Entrepreneur and Co-Star of Shark Tank
Although she was a straight-D high school student and she held twenty jobs by the time she was 23.  Barbara Corcoran took a $1,000 loan and turned it into The Corcoran Group. In 2001, she sold that business for $66 million. "I never fool myself for a minute," she wrote in her website blog. "No matter where my career and my life take me, I'm still that little girl from New Jersey, and I bring along with me all that came with it. That sounds like a bad thing, but it's not. What I see in most of my successful associates is all the challenges and experiences that make them the winners they are today. It's what makes their motor go. Me too."
Ayo Haynes
Agent, Halstead Property
A native New Yorker, Ayo's clients nicknamed her "The Resourceful Broker" because she utilizes her professional network to link them to specific resources and contacts needed to navigate all aspects of today's real estate market. She told Black Enterprise, "If you're interested in real estate, the number one thing to do is to take your courses and try partnering with someone who is knowledgeable. I would not suggest going into a company and building your business from zero. Also, have money saved in the bank to pay your bills, make yourself available to experienced brokers, and don't be afraid to say that you are a new agent."
Dottie Herman
Co-owner and CEO of Douglas Elliman
As of 2016, Douglas Elliman sold $24.6 billion worth of real estate nationwide- a 9.8 percent year-over-year jump. Her brokerage has over 6,000 agents in 85 offices nationwide. She originally made her name selling multimillion-dollar homes in the Hamptons and Manhattan. She told Forbes, "You have to be passionate about what to do. Not that I grew up and wanted to be a real estate person. I didn't. But opportunity presents itself and I think most people don't take advantage of it or they're afraid to. They are afraid of failing. I was not."
Jessica Houghton
Sales Associate, Coldwell Banker Residential Brokerage
Jessica, a 4-year real estate veteran, was recently profiled by Inman as one of six successful young agents. She told Inman, "Get comfortable with social media. It might be the most efficient way to market yourself and your business that exists. Use social media to engage your current contacts but don't try to do it all. Pick one — Facebook, for instance — and be consistent with your message. Once you have a good grasp of what's working or what's not working, add in Twitter and so on. If you try to do all social media channels at once, it can be overwhelming, so go at your own pace — but don't underestimate the power of social networks."
Constance Freedman
Founder and Managing Partner of real estate venture capital fund Moderne Ventures
Constance worked her way through Boston University as a real estate agent, graduating in 1997. She attended Harvard Business School and then began a career in venture capital. She launched Moderne Ventures in 2015; it closed its first venture investment fund at $33 million. She told Realtor magazine, "Go to [industry] events and make the effort to get to know people. Make the calls to connect with mentors; show up and ask questions."
Helen Hanna Casey
President and Chief Executive Officer of real estate brokerage Howard Hanna Real Estate Services
The agency was started by her father over 60 years ago; now it boasts 259 offices and 7,850 agents. Sales volume as of 2016 was over $17 billion, with over 95,000 transactions. She told NAWRB, "Obviously, women bring a lot to the table. We do think in a different language, and we sometimes speak a different language. Sometimes you can get into gender stereotyping by believing that what somebody is saying is based on the fact that they're a 70-year-old man or a 40-year-old woman. You have to be very careful not to do this. I do think there is an essence that a woman brings that men don't."
Sally Forster Jones
President of Aaroe International Luxury Properties, Beverly Hills
Sally sold about $4 billion of luxury real estate in Southern California in her nearly 40-year career.  In 2011, she helped broker the $85 million sale of a mansion that had been built by the TV producer Aaron Spelling. The initial listing of $150 million set a record at the time. She told Reuters, "I have a knack for understanding people. Residential real estate is a people-oriented business, so my ability to read and understand people has ultimately helped me to hire and pull together the best team possible. You have to surround yourself with the smartest and most talented people. Having a great team and being able to delegate really allowed me to grow my business and ultimately achieve my financial goals."

Click here to find out how you can keep your cash flow steady as you build your own real estate story.