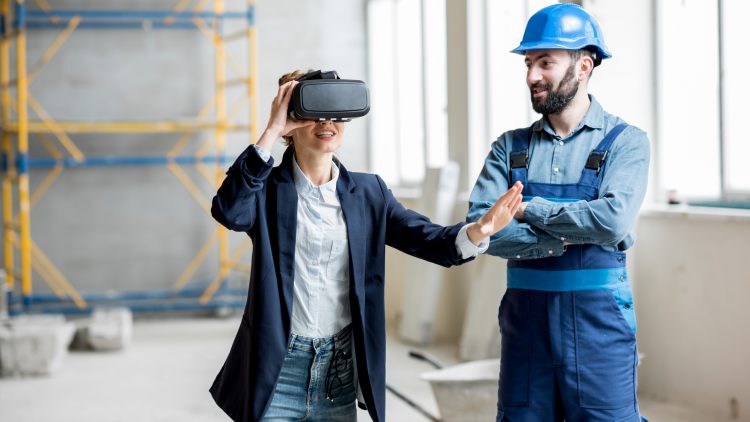 Many real estate agents may feel intimidated or threatened by the advent of virtual reality (VR), but this awesome new technology can be used as a very effective (and dazzling) tool to help and sell to clients. VR may look like a game, but it's a very serious marketing strategy.
VR is a technology that allows clients to see a property through headphones and specialized goggles. Some VR can also be seen through phone apps, laptops and other devices.
VR allows the ability to show a client a property — even in other cities and states — without having to physically be there. Also amazing: technology used to show homes that haven't even been built yet.
The technology is here to stay, and quickly becoming an everyday part of the real estate business. The VR market was expected to reach $13.9 billion as of 2017, with an increase of 130.5 percent over the already $6.1 billion spent in 2016, according to the Worldwide Semiannual Augmented and Virtual Reality Spending Guide. Spending on this technology is expected to increase over the next several years (to 2020) by 198 percent and totaling $143.3 billion by 2020.
The key to the success of using VR– enhancing the client's experience. Below are tips on how to do so:
Show your clients the magic of VR when offering to list their home
The best way to demonstrate how you're going to market a clients' house with VR is to show them. A seller seeing his or her own property featured in VR is a thrill, and communicates immediately how you plan to sell the house with the very latest technology. Google Cardboard VR headsets are low cost and can fit conveniently into a briefcase or folder.
Let the potential buyer be in charge
The VR technology is interactive, allowing your client to see listed home options and making changes to them as they see fit: colors, textures, countertops, appliances, and furniture. It gives them control over their environment, and a chance to have some fun with a property that will immediately feel more meaningful to them.
Personalize an open house with VR
Imagine a prospective buyer seeing an empty house with their furniture — or the style of furniture they want to buy — already inside, and placed where it looks best. VR can achieve this, giving the property the style and tastes of the prospective buyer — a strong selling point.
Keep your VR set handy
You can market your listings even when you're not showing houses. Keep your VR headset with you, when you're attending community events, meetups, or even neighborhood bar-b-ques. People will get a kick out of your toy, and you may find a prospective buyer in the process.
Expand your client list
VR allows you to sell to clients in other cities and states, as well as to foreign investors. Showing a property through the convenience of VR means no travel needed. Sales can be sped up, and new business relationships can be forged faster.

Click here to discover how eCommission can help you gain control of your cash flow.