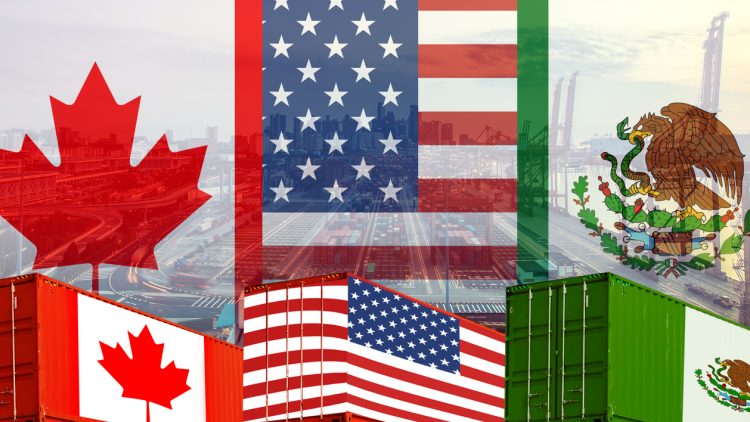 It's a news item that was more or less off the radar for a while, then returned with a vengeance.
Back in the 1990s, the North American Free Trade Agreement (NAFTA) was implemented with the intention of creating the world's largest free-trade zone. That zone encompasses The United States, Canada, and Mexico, affecting 350 million people and a gross domestic product (GDP) of more than $6 trillion. This is meant to rival the Western European trading block.
However, a new trade agreement was reached by the United States, Canada and Mexico at a September 30 deadline. The new deal, called The United-States-Mexico-Canada-Agreement (USMCA), effectively replaces NAFTA, which was in place since 1993.
President Trump is expected to sign the new agreement this month, and then Congress would have to approve the deal most likely next year. It remains to be seen how this will play out.
President Trump's "America First" mindset played a large role in the transformation of NAFTA into something else.  The original idea was to increase bilateral trade, productivity and wealth. Since the agreement was first made, bilateral trade tripled among the three partners. Any renegotiation that the President introduces may impact this trade, affecting the economy (and then, of course, real estate).
The original NAFTA agreement had prompted the real estate industry to look at its licensure traditions. In the U.S. and Canada, real estate and licensure happens at the state level. In Canada, it's at the provincial level, with a residency requirement. If an agent wants to practice in another area, another test and fees are required. Mexico, on the other hand, has no licensing requirements at all. NAFTA had inspired the U.S. and Canada to consider a real estate licensing agreement that does not require a residency requirement.
The National Association of REALTORS® (NAR), the Canadian Real Estate Association (CREA), and the Mexican Association of Real Estate Professionals (AMPI) had planned to meet over the course of several years, to further discuss this portability issue and the agreed-upon licensing standards. As of now, the jury is still out.
The construction industry could also be affected by USMCA. A tariff increase could lose Canada more than 362,000 jobs and a 1.9 percent decrease in the Canadian gross domestic product, according to EDC statistics. Since Canada is one of our major trade partners, America may feel a similar loss.
Since many developers and manufacturers work with companies in the United States, Canada and Mexico — and employ more than 40 million Americans — many products cross borders regularly. Changes, tariffs, or limitations may slow or eliminate this process, or could increase costs, discouraging companies from shipping its products and materials, including housing materials.
The new agreement has also been updated for the digital age. According to CNN, it outlines criminal penalties for online pirating, and prohibits duties on digital music, books, software and videogames. There will also be stronger intellectual property protections, including patents for biotech and, in interest to the real estate industry, financial services.

Click here to discover how eCommission can help you fortify your cash flow.