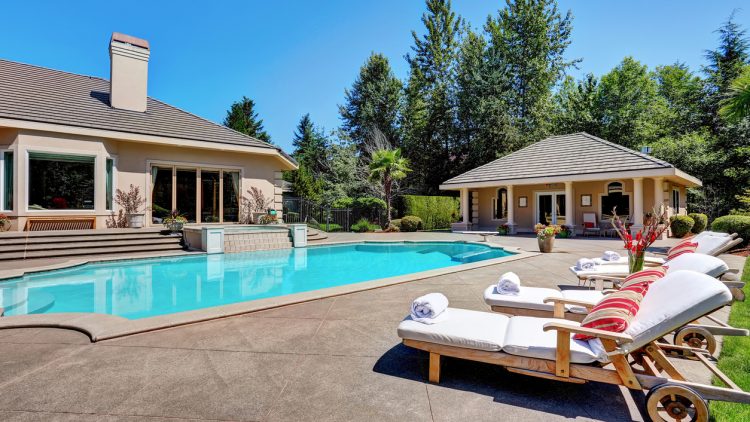 Swimming is not equally popular across markets, but there is always a segment of buyers looking for a property with a pool. In Arizona they may account for the majority of buyers while in Minnesota they may represent a much smaller percentage, but in both situations a pool is one more thing that could draw in a buyer who otherwise would have passed.
Here are a number of ways to use a pool to maximize offers on a house.
Is it big enough for laps?
If the home you're selling has a pool that is large enough to swim laps, then emphasize that in the listing. Not only will you draw in swimming enthusiasts who have long dreamed of saving themselves a trip to the gym or public pool, but even people who have never swum seriously may be intrigued by the easy access to a good workout. This is particularly true in hot climates where many people find it difficult to engage in outdoor physical activity during much of the year.
Not big? Emphasize relaxation
A large percentage of pools were not designed for serious swimming but rather for people to cool down in the afternoon, perhaps with a drink. Convey the relaxation potential as well as the shallow water being safer for children and non-swimmers.
Safety
Some municipalities have strict rules about how pools must be set up, including fencing to prevent wandering youngsters from falling in and at least one ladder into the water. Whether or not your seller is subject to any rules, you should encourage them to put a number of common safety measures in place so that buyers with young children aren't turned off.
Keep it clear
A pool goes from an asset to a liability if it's dirty. Some sellers won't like to hear it, but they need to get their pool cleaned before they put their home on the market. That might mean doing some routine clean-up, such as getting leaves from the bottom, but it could also require a professional. Whatever is necessary, do it!
Furniture
For a big portion of the pool-seeking population, the opportunity to lounge around a body of water is more attractive than taking a dip. It's best to include at least two pool chairs so that the buyers can envision themselves catching rays.
Warranty
Offering homebuyers a little peace of mind regarding future pool repairs and maintenance is worth considering. Many home warranty companies offer plans that cover pools and hot tubs, contingent on an inspection.

Click here to discover how eCommission can help you fortify your cash flow.