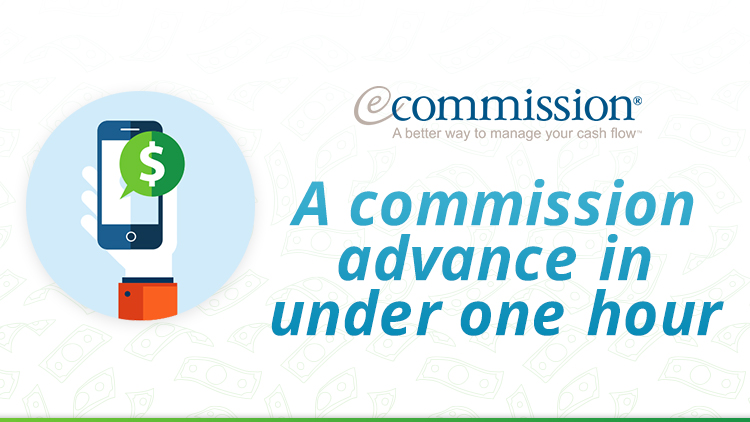 At eCommission, we make it easy for agents to apply and receive advance payment of their pending real estate commissions. For the vast majority of customers, the entire process takes less than one hour to complete from application to funding. What could be more gratifying than turning your next commission into cash today instead of waiting weeks or months for a sale to close?
If you've ever considered using eCommission, here are few things you will need to ensure a smooth transaction:
An active real estate license

A pending residential or commercial sale closing within 120 days

Escrow file opened

A valid bank account
Creating an account
As a new customer, your first step is to create an account. This is a basic process where you tell eCommission a little about yourself and your company. It takes about a minute to complete.
Applying for an advance
Next, you're moving on to requesting your money. Here is the sale information you'll need to enter online:
Property Address

Buyer / Seller Name (neither the buyer nor the seller are contacted)

Closing date

Information about the title/escrow or attorney closing the sale

Amount of your net commission

Amount you would like to have advanced (this need not be 100% of your net commission. It can be any amount you desire ranging between $500 and $15,000)

The bank account where you'd like to have your money wired
Calculating the cost
As you enter your sale information online, you will immediately discover the cost to advance your commission, which varies depending on the amount being requested and the length of time until your sale closes. Shorter advances for smaller dollar amounts cost less for example, than larger advances over longer closing periods. On average, the cost ranges between 8% and 16% of the amount you are requesting. Keep in mind too, as an independent contractor the cost is a tax deductible business expense!
Electronic signing
Once you enter your sale information and requested your advance amount, the final step involves you and your broker electronically signing the agreement online. eCommission has funded over $1 billion to agents and enjoys partnerships with many national companies and thousands of brokerages throughout the country. New agents are often surprised to learn their office has been using eCommission for many years.
If there are ever any concerns or questions during the application, our customer service reps are available by phone and online chat during business hours. The process is a snap. Discover eCommission today, and have your next commission wired to your bank account in less than one hour!